Alcatel-Lucent

Telecom today is an environment of radical adaptation to new realities, new demands, new business models. The long-trusted transformation partner of service providers, enterprises, strategic industries and governments around the world, Alcatel-Lucent delivers the innovation our customers need to stay ahead. To compete. To create. To move at the speed of ideas, both in the lab and in the marketplace.
A leader in mobile, fixed, IP and optics technologies, and a pioneer in applications and services, Alcatel-Lucent includes Bell Labs, one of the world's foremost centers of research and innovation in communication technology. They bring an unmatched heritage of ideas and execution to the challenge of realizing the potential of a connected world.
With operations in more than 130 countries and the most experienced global services organization in the industry, Alcatel-Lucent is a local partner with a global reach.
---
OmniTouch 8082 My IC Phone
The Alcatel-Lucent OmniTouch™ 8082 My IC Phone introduces a new category of endpoints, called smart deskphones, for delivering deskphone functionality. It offers an unprecedented level of comfort at the desk, thanks to its high-quality wideband audio capacity and its always-on availability.
Using its capacitive haptic touch screen with rich contextual menus, My IC Phone delivers the intuitive interface of a smartphone. It offers access to rich collaborative conversation features that deliver significantly more communications functions than the traditional deskphone.
The web-services openness of the My IC Phone enables the integration of specific business, or industry-related applications as well as the addition of contextual features for richer and more effective conversations. Depending on the user's status, such as presence and availability, or on the phone's state, such as idle or in conversation, specifically designed applications can display presence-based and contextual, customized information to make the phone a command center for efficient collaborative business conversations.
Resources
---
8000 Series Phone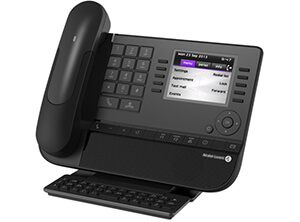 Alcatel-Lucent 8068, 8039, 8038, 8028 and 8029 Premium DeskPhones offer a rich IP communications experience and a great conversations comfort with an outstanding wideband audio quality either in hands free or using the comfort handset. These new innovative design sets come with several ergonomic enhancements such as adjustable foot stand, alphabetical keyboard, backlit display, dedicated function keys, user friendly navigator as well as a comprehensive set of accessories.
All these elements facilitate the user's business day-to-day tasks. Three of these Premium DeskPhones embed two Gigabit Energy Efficient Ethernet ports, one of which supporting Power over Ethernet. These elegant devices complement and leverage all the rich telephony capabilities of the Alcatel-Lucent Enterprise platforms. Stay ahead by investing in world-class telephony equipment that thrives collaboration, and keep confident that your today investments will be your companions for many years.
---
8 Series IP Touch Phones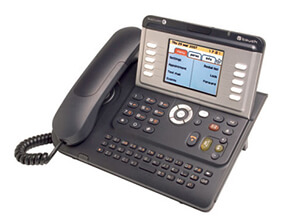 The Alcatel-Lucent 8 Series IP Touch phones are full-featured desk phones that offer integrated IP connectivity and telephony. In addition to the converged power of data and voice over IP, these terminals support an unsurpassed range of features and functions, including web-based XML business applications. They offer superior-quality audio and an optimized design with a large, high-resolution screen.
The 4068 IP Touch incorporates a color display and the freedom of Bluetooth® wireless technology. Alcatel-Lucent 8 Series IP Touch phones increase employee efficiency and productivity by targeting and supporting different user needs.
Resources
---
9 Series Digital Phones
Alcatel-Lucent 9 Series Digital phones take you to a new dimension in audio experience, aesthetics, communications productivity and customer care. This advanced range brings the award-winning power of the Alcatel-Lucent OmniPCX communication servers - with their spectrum of advanced features - within even easier reach. Alcatel-Lucent 9 SERIES offers the best sound quality around. Its terminals have a hands-free speakerphone, including acoustic echo cancellation, and take listening comfort to new levels.
Available in ice blue or urban gray,these phones don't just look the part - they are also conceived to ensure the simplest, most intuitive, access to a wealth of features.
Resources
---
OmniPCX Office Rich Communication Edition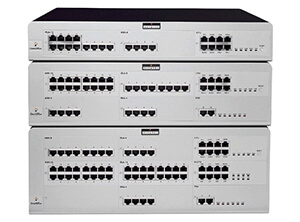 Alcatel-Lucent OmniPCX Office Rich Communication Edition (RCE) is a pre-configured server that allows small and medium businesses to enjoy enterprise-class business telephony. The OmniPCX Office RCE is easy to deploy and manage, and is extremely cost-effective. Installing an OmniPCX Office RCE is the first step to improved customer service, enhanced business operations, and reduced operational risks.
It offers powerful business services, including customer welcome, Automatic Call Distribution (ACD), soft phone and third-party XML IP and SIP telephony, desktop phones, on-site and off-site mobility, Unified Communications and Collaboration, video collaboration, and IP networking.
Four OmniPCX Office RCE platforms cover the communications needs of any size business. All platforms combine a Voice-over-IP core with support for analog and TDM, to simplify the migration to IP.
The OmniPCX Office RCE is future-proof, ready to support next-generation applications and services, and designed to increase employee efficiency and customer satisfaction today and as the business grows.
Resources
---
OmniPCX Enterprise Communication Server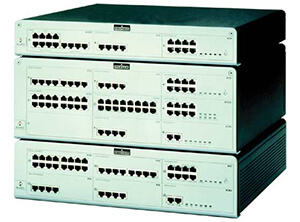 The Alcatel-Lucent OmniPCX Enterprise Communication Server (CS) is a highly scalable solution based on a pure software server platform that provides multimedia call processing for both Alcatel-Lucent and third-party clients/phones.
The OmniPCX Enterprise Communication Server combines traditional telephone functions with support for Internet-based telephony and multimedia communication to create rich call-handling applications that deliver world-class business telephony features for medium, large, and very large sized companies. This suite of unified communication applications, includes a Web softphone, along with unified messaging and personal assistant applications.
Resources
---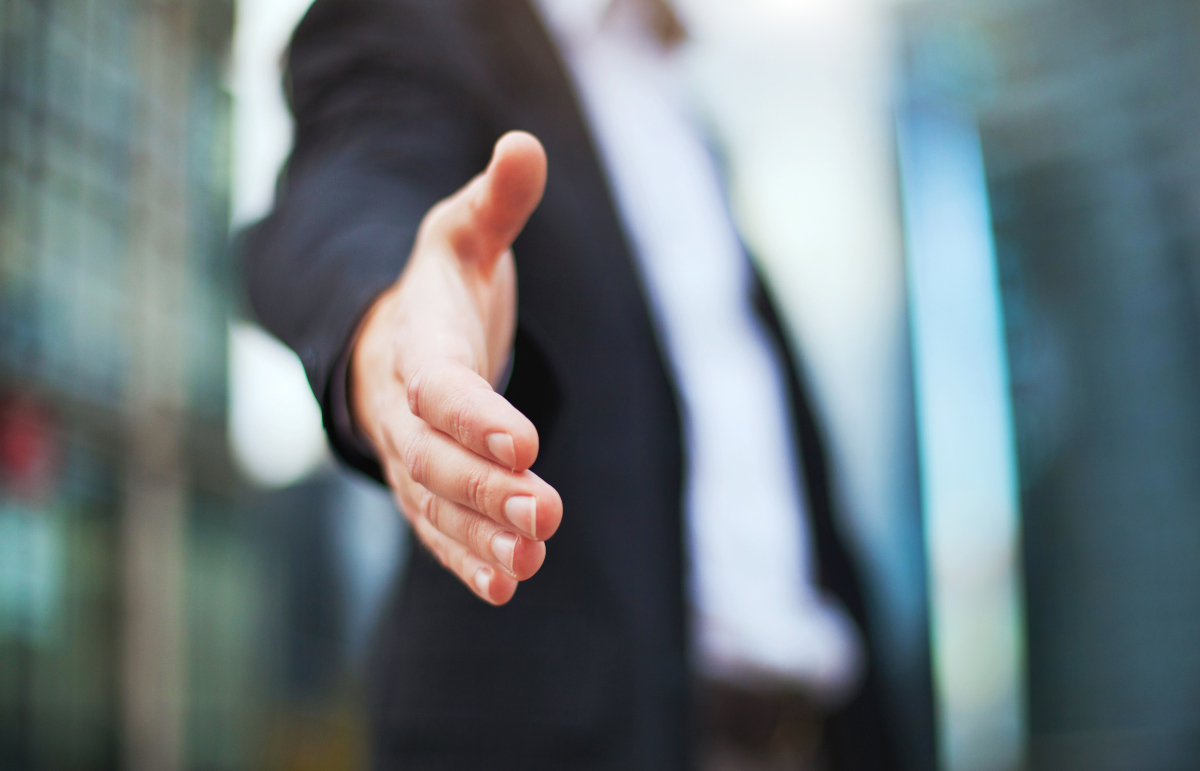 TriTel Networks products provide extreme savings and enhanced productivity, which allows you to spend time on other important business matters and we will find your solution that will fit your company best.